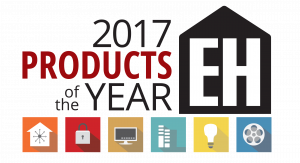 October 17, 2016 – Framingham, MA – The Product of the Year Awards, sponsored by ElectronicHouse.com, recognizes the best technologies, products, and services for the smart home. All entrants of this year's awards will receive exposure in the 2017 Products of the Year Guide, coverage on ElectronicHouse.com and CEPro.com, featured in audience newsletters, and exposure on social media. Additional benefits for the winners will be an announcement in an email and press release showcasing the winners, they will receive a full-color award in a display case, and exclusive use of the 2017 Electronic House Products of the Year winners logo.
Each of the entries will be judged by an unbiased panel, made up of several industry leaders and editors from ElectronicHouse.com and CE Pro magazine, on creativity, innovation, functionality, aesthetics, and lifestyle benefits. Early Bird deadline is November 4th, 2016. Final deadline for submissions is December 22, 2016. Enter your submissions here.
The 2017 Electronic House Product of the Year Categories are:
Audio
Acoustical Treatments

Audio Components: Amplifiers, Receivers, Tuners, Processors, and Audio Streaming Devices

Loudspeakers and Soundbars

Multi-room Audio Systems

Subwoofers
Home Control and Automation
DIY-Installed Whole-House Home Control/Automation Systems

Energy Monitoring Devices & Services

Home Networking Components

Power Management, Conditioning & Backup

Professionally Installed Whole House Controls/Automation Systems

Remote Home Monitoring/ Management

Smart Sensors

Spa/Pool Controls & Water Management

Thermostats

Universal Remotes & User Interfaces
Home Theater
A/V Racks & Rack Accessories

Home Theater Accessories

Home Theater Furniture

Home Theater Surround-Sound Systems

Media Servers/Storage Devices

Video Projectors
Lighting
Fixtures, LED, Fiber Optic

Lighting Controllers and Accessories

Motorized Window Treatments and Windows

Smart Light Bulbs
Security
Access Control (including Videophones, Door Locks, Gates, etc.)

Security Sensors

Security Systems

Surveillance Cameras
Video
Flat Panel Displays

Lifts & Mounts

Projection Screens

Video Components & Processors
Enter the 2017 Electronic House Product of the Year Awards here.
ABOUT ELECTRONIC HOUSE: It is the mission of ElectronicHouse.com to provide expert information and insight on products and technologies that inspire, excite and help our readers achieve the electronic house lifestyle. Born of Electronic House magazine, which has been providing readers with inspiration on the connected home for more than 20 years, ElectronicHouse.com has become the leading information site for people passionate about the connected home—from beginners to experts. www.electronichouse.com
ABOUT CE PRO: Launched in 1994, CE Pro was the first publication to address the home systems integrator channel and is widely recognized as the best publication in the category. Written specifically for installing professionals who recommend, select, or purchase technology-related products for homeowners, as well as homebuilders and SMB (small/medium business) owners, CE Pro' s daily online news, thought-leading columns, strategic how-to features, and educational forums provide the necessary information to help them run and grow their businesses. For more information about CE Pro, please visit www.cepro.com
ABOUT EH MEDIA: EHM is an integrated media company and the leading provider of independent business and consumer content and information serving the consumer, commercial & custom electronics, security, information technology, house of worship, pro audio, robotics, and supply chain markets through multimedia publications, websites, newsletters, and expos. EH Media provides resources to millions of professionals and consumers worldwide. EH Publishing, Inc. will now be doing business as EH Media. www.EHMedia.com