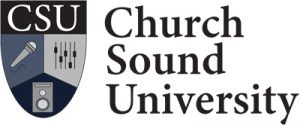 Learn At Your Own Pace … In Your Own Space.
Church Sound University offers online learning that provides the flexibility many church techs require. Take your time. Revisit the content to refresh your mind. It's convenient and cost effective.
Church Sound University is presented by worship sound practitioners FOR worship sound practitioners. The curriculum has been specifically tailored to focus on the KEY essentials for church tech teams — volunteers in particular — to attain consistent sonic quality at every worship service and event.