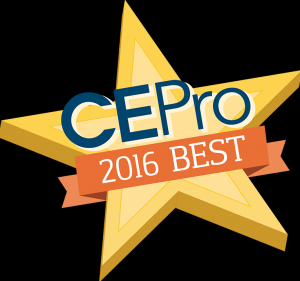 September 15, 2016 – Dallas, TX – Recognizing the most noteworthy new products and technologies, CE Pro is pleased to announce the winners of the 2016 CE Pro BEST (Best Electronic Systems Technologies Awards).
"The BEST Awards have quickly become recognized by manufacturers and integrators to represent products that really make a difference in the market," says Jason Knott, editor-in-chief at CE Pro. "I am always amazed at some of the unique innovation and problem-solving solutions for integrators that come out of the awards. It's exciting to see many of these new products go on to achieve great success."
Winners' products and technologies will be featured in the November Issue of CE Pro magazine, posted to CEPro.com and highlighted on the CEPro.com Product Awards section, usage of the CE Pro BEST Award Winner Logo, and will have recognition during CEDIA.
All entries will be posted to the CEPro.com Product Awards section with a link to the entrant's site, included in the November issue of CE Pro Magazine, social media coverage, and an extensive marketing campaign.
All 173 entries were judged on innovation, functionality, competitive advantages and benefits to the installer by a dozen credible industry leaders, along with the editors of CE Pro.
The winners are:
Tools, Testing and Calibration
Krika
WHEOSE (aka the Help Me Button)
Peripherals and Enhancements
NuTone
Haven Backyard Lighting & Mosquito Repellent System
Tripp Lite
SRCOOL7KRM Rack-Mounted AC Unit
Object-Based Surround Components
Yamaha Corp. of America
YSP-5600 MusicCast Sound Bar with Dolby Atmos & DTS:X
Arris and Comcast
Xfinity Rack Mount DVR
Loudspeakers
Definitive Technology
BP9080X
LiveWall
Ar11
Dynaudio
Xeo 2
GoldenEar Technology
SuperSub X
SpeakerCraft
Dolby Atmos Series
Terra Speakers
AC [All Climate] FIVE
Household Enhancements/Installation Accessories
eero, inc.
eero Home WiFi System
SureCall
Fusion7
Metra Home Theater Group
Velox HDMI Fiber System
Luxul
Roam Assist Empowered Wireless Router (XWR-3100)
Midlite Corp.
SONOS Speaker Mount and In-Wall Power Solution
Electrolux Home Care Products, Ltd.
Semi Integrated Condo Vac
SunBriteTV
65-inch Signature Series 4K Outdoor TV
Home Theater/Multi-Room Audio/Video
DISH Network LLC
Hopper 3
Barco Residential
Thor 6P Laser Projector
Epson America
Pro Cinema 6040UB
NEAR (a division of Bogen Communications, Inc.)
7XL
TiVo Inc.
BOLT+
Denon
AVR-X6300H
IC Real Tech
ALLie Home 360-Degree x 360-Degree Lifestyle Camera
ELK Products, Inc.
C1M1 Dual-Path Alarm Communicator with Remote Services
iRoom GmbH
iTop
Logitech
Logitech Harmony Pro
QMotion
Qadvanced Intelligent System (QIS) Shades with ZigBee HA 1.2 Control Option
Crestron
RGBW LED Controller (CLC-1LEDPWM-RGBW-EX)
Basalte
Deseo
Business Operations
D-Tools, Inc.
System Integrator 2016 (SI 2016)
One Firefly
MantelMount
Pro-Pack Pull Down TV Mount
Nexus 21 Concealment Systems
CL-65 TV Flip-Down
Sony Electronics
VPL-VW5000ES 4K SXRD Home Cinema Projector
EPV Screens
DarkStar eFinity
LG Electronics
LG Signature OLED
NAD Electronics
CI 580 Four Zone BluOS Network Music Player
Pulse-Eight
Neo Matrix 4×4 Ultra HD
Panamax
VT-4315 Pro
Apollo Enclosures
Model AE8580
Salamander Designs
Low Profile Wall Cabinets
Control & Automation
Lead Concierge
iPoint LLC
iPoint Control
OneVision Resources
Integrator Service Desk
SnapAV
OvrC Pro
ABOUT CE PRO: Launched in 1994, CE Pro was the first publication to address the home systems integrator channel and is widely recognized as the best publication in the category. Written specifically for installing professionals who recommend, select, or purchase technology-related products for homeowners, as well as homebuilders and SMB (small/medium business) owners, CE Pro' s daily online news, thought-leading columns, strategic how-to features, and educational forums provide the necessary information to help them run and grow their businesses. For more information contact Ray Lyons 508-208-7655 www.cepro.com
ABOUT EH PUBLISHING: EH Publishing is an integrated media company and the leading provider of independent business and consumer content and information serving the consumer, commercial & custom electronics, security, information technology, house of worship, pro audio, robotics, and supply chain markets through multimedia publications, websites, newsletters, and expos. EH Publishing provides resources to millions of professionals and consumers worldwide. For more information, contact: Jane Jenkins 508-663-1500 Ext. 238 www.ehpub.com