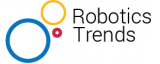 December 12, 2016 – Framingham, MA– By 2018, sales of service robots for personal and domestic use will reach 35M units according to the International Robotics Federation. Get a first look at the robots responsible for changing the way we live during the CES Robotics conference track and within the Robotics Marketplace, both presented by Robotics Trends.
Robotics Conference Track:
On Friday, January 6, 2017, the Robotics conference will deliver three power-packed sessions that reveal how robots are transforming our lives through delivery, AI and deep learning among others. Conference sessions will include:
Delivery Robots Knocking at Your Door: Learn how drones and autonomous mobile robots are transforming home delivery and emergency medical response. Ahti Heinla of Starship Technologies, Helen Greiner of CyPhy Works and Steve Cousins of Savioke will discuss developments, the need for continued testing and how to overcome regulatory and technical challenges.
Improving Human-Robot Interaction: Steve Carlin of Softbank Robotics America and David Hanson of Hanson Robotics will dive deep into what improvements are required for humans to more easily interact with robots. This session explores the technologies contributing to making robots more useful in our daily lives. Plus Hanson Robotics' Professor Einstein robot will make its FIRST EVER appearance in the US during this demonstration.
Robots for the Real-World Showcase: Join Steve Crowe of Robotics Trends for demos of real-life robots that are already working with humans and making a major impact on the world. Attendees will be able participate in Q&As and vote for the most game-changing robot.
Robotics Marketplace:
Located at CES' Tech West, the Robotics Marketplace will be available to explore January 6-9, 2016. Visitors will have the opportunity to mingle with over 25 exhibitors showcasing intelligent, autonomous machines capable of seeing, hearing and reacting to the environment in ways once thought impossible.
A few of the companies that will be on display include ECOVACS Robotics, Five Elements Robotics, OZOBOT, Picobrew, Segway, Seven Dreamers Laboratories and UBTECH Robotics among many others.
Follow the robotics action from CES and year-round at RoboticsTrends.com
Join the conversation: @RoboticsTrends – #CESROBO
ABOUT ROBOTICS TRENDS:
Robotics Trends is THE guide to enhancing daily life with robotics and AI technology. Our content helps readers make sense of the growing universe of personal robotics technologies and innovations designed to improve the way we work, play and live.
CONTACT: Sarah Kastrinelis; skastrinelis@ehpub.com; 508.663.1500