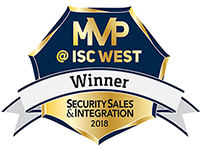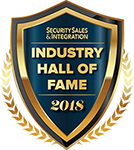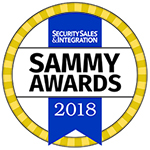 LAS VEGAS, NV – April 10, 2018 – Recognizing groundbreaking installing and monitoring companies, suppliers, and professional security icons, Security Sales & Integration held the SAMMY Awards, Most Valuable Product Awards and the Hall of Fame Inductee ceremony in an evening ceremony at The Venetian Hotel, Las Vegas.

The SAMMY Awards recognize installing security integrators, dealers and monitoring providers for their marketing, installation and overall business excellence. The SAMMYs program raises the bar for the entire electronic security industry by sharing the best ideas and practices with all.

Nearly 130 entries were judged independently by a panel of industry experts. Winners of this award receive exposure in SSI's magazine, website and electronic communications.
The SAMMY Award winners are:

Best Vehicle Graphics Design
Silent Guard
Somerset, KY

Best Social Media Campaign
Stanley Security
Lisle, IL

Best Website Design
Per Mar Security
Davenport, IA

Best Promotional Video or Audio
Forest Security
River Grove, IL

Best Display Advertisement (Print or Electronic)
Bates Security
Lexington, KY

Best Sales Brochure
Stanley Security
Lisle, IL

Best Newsletter or Content Marketing
Acadian Total Security
Lafayette, LA

Best Promotional Giveaway Item
Vector Security
Warrendale, PA

Best Community Outreach Program
Silent Guard
Somerset, KY

Best Overall Marketing Campaign
Stanley Security
Lisle, IL

Integrated Installation of the Year (Multisite Project)
ADT Security Services
Boca Raton, FL

Integrated Installation of the Year (Single Site Project)
Bates Security
Lexington, KY

Installer of the Year (Small to Midsize Company)
SAF Technologies
Matthews, NC

Installer of the Year (Large Company)
ADT Security Services
Boca Raton, FL

The Most Valuable Product (MVP) Awards recognize products that make a substantial impact on integrators and were judged on innovation, functionality, competitive advantages, benefits to the installer or monitoring provider, and benefits to the end user.

"Now in its fourth year, SSI's Most Valuable Products Awards has solidified its standing as not only one of the most credible programs of its kind for the electronic security industry but also the greatest value for entrants," says Security Sales & Integration Editor-in-Chief/Associate Publisher Scott Goldfine. "It's overwhelming for security integrators to keep up with the thousands of products introduced annually. SSI's MVP Awards provides integrators the valuable service of distinguishing particularly noteworthy new products, and salutes the manufacturers responsible for them. Both factions benefit by having entries evaluated by independent security integrators and industry consultants. Congratulations to this year's finalists and winners — you've earned it!"

All 54 entries were judged by a panel of experienced integrators and industry consultants. In addition to being recognized at ISC West 2018, winners' products will be featured in the June issue of SSI, highlighted "callout" in the SecuritySales.com Product Awards section, social media coverage, and an earmarked newsletter article.
The winners are:

Access Control

ASSA ABLOY
EcoFlex Exit Trim

Vanderbilt Industries
ACT365

Farpointe Data
Conekt Mobile Credentials & Readers

Alarm.com
Smarter Access Control
________________________________________

Business Operations

D-Tools Inc.
System Integrator 2017 (SI 2017)
________________________________________

Central Station/Monitoring

N3N
N3N for Physical Security
________________________________________

Fire/Life Safety

Potter Electric Signal Company, LLC
IPA Series Fire Alarm Control Panels

Aiphone
IX Series 2
________________________________________

Installation Aids

Bosch Security and Safety Systems, Inc.
Project Assistant
________________________________________

Intrusion Detection

Qolysys
IQ Panel 2

OPTEX, Inc.
iSeries IP Receiver

Inxpect SpA.
Magnasphere Motion
________________________________________

Miscellaneous Security Products

Axis Communications
AXIS T6101 Audio and I/O Interface

HID Global
HID Trusted Tag Services for Fire and Safety

STANLEY Security
STANLEY IntelAssure, Powered by Viakoo

V5 Systems
V5 AV – Streaming (V5 Acoustic Gunshot Detection and Portable Security Unit Combo)
________________________________________

Security Apps

Viakoo, Inc.
Viakoo Preemptive
________________________________________

Video Surveillance

FLIR Systems, Inc.
FLIR FB-Series ID

IC Realtime
Ella

Pivot3
Pivot3 Critical Video Surveillance Infrastructure

Razberi Technologies
Razberi CameraDefense
________________________________________
Founded in 2004 to represent the highest honor for extraordinary professionalism, conduct and achievement, each year SSI's Hall of Fame pays tribute to those remarkable people who have had an unforgettable impact on the industry, continuously sustained over the duration of a long and illustrious career. Nominated by past inductees and other luminaries, this year's seven honorees now join nearly 100 others in the industry's pantheon.
This year's inductees are:

Tim Creenan
CEO, Amherst Alarm

Arthur Geringer
Deceased; Founder, Security Door Controls (SDC)

Scott Goldfine
Editor-in-Chief/Associate Publisher, Security Sales & Integration

Joe Grillo
CEO, ACRE (formerly with HID and ASSA ABLOY)

Marc Mineau
Deceased; Executive roles with Kantech, DSC, Tyco and Brivo Systems

Dennis Stern
Principal, Dennis M. Stern Corp.
(formerly with Buchanan Ingersoll, ADT, National Guardian, Wells Fargo Alarm and others)

Pierre Trapanese
CEO and Owner, Northland Control Systems

ABOUT SECURITY SALES & INTEGRATION (SSI): "The #1 Technology & Business Authority Since 1979" reaches executive, sales & technical professionals who recommend, buy and/or install electronic security equipment, including video surveillance, access control, biometrics, IT networking, intrusion, fire alarm, home controls/automation plus other security products and services. Editorial features include commercial & residential product applications, technology updates, systems design installation techniques, sales & marketing case studies, statistical research and operation management.

ABOUT EH MEDIA: EH Media is an integrated media company and the leading provider of independent business and consumer content and information serving the consumer, commercial & custom electronics, security, information technology, house of worship, pro audio, robotics, and supply chain markets through multimedia publications, websites, newsletters, and expos. EH Media provides resources to millions of professionals and consumers worldwide. For more information, contact: Jane Jenkins 508-663-1500 Ext. 238