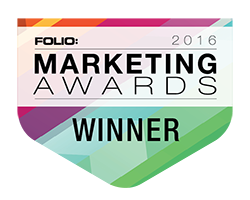 December 5, 2016, Framingham, MA – Folio, a dedicated resource for magazine publishing professionals, announced the winners of the 2016 Folio: Marketing Awards. The awards recognize the year's best in pioneering, inventive, and ultimately successful projects undertaken by the media industry's most innovative marketing professionals. The Folio: Marketing Awards honor not only individual campaigns but the marketers and marketing teams that make them happen.
We are excited to announce that EH Media and EH Impact won Folio: Marketing Awards in two categories. See the announcement here.
EH Media
EH Media won under the Media Kit category, which recognizes the best in bringing advertising opportunities to life and engaging prospects; a piece that tells your brand's story. Our creative services, web, and sales teams worked tirelessly to create not only the 2017 Media Kits, but EHMedia.com.
Seamlessly incorporating all the marketing and sales opportunities for the company, the media kit and website work hand in hand to tell our brand's story. The primary objective for the media kits was to educate and inform current customers and prospects alike. We wanted to bring our media kit alive in three ways:
1. Through a printed version to give our customers a tangible opportunity to hold onto;
2. A digital version to allow our sales team and customers to discuss marketing opportunities in real time; and
3. EHMedia.com, which allows prospects and customers to interact with the opportunities we provide by allowing them to make specific selections based on industry and brand.
EH Impact
EH Impact entered the Lead Advantage Program under 3 categories: Integrated Program for Product Launch, Lead Gen Initiative, and the WOW! Award. While the WOW! Award will be announced at the Folio: Marketing Awards Luncheon on December 13, 2016, EH Impact's Lead Advantage Program did win in the Lead Gen category.
The Lead Advantage Program's primary objective was to generate leads at a profit, qualify these leads for sale and create new leads from affiliate partners. We looked to use our two security brands, Campus Safety and Security Sales & Integration, in a way that would allow us to serve both audiences. We accomplished this by using marketing funnels to generate leads, engagement, conversions and, eventually, sales. In order to pull both audiences together, we wanted to use a technique called funnel stacking, where we "stack" 2 or more automated marketing funnels together to fully nurture a lead to the point of sale.
ABOUT EH Media: EH Media is an integrated media company and the leading provider of independent business and consumer content and information serving the consumer, commercial & custom electronics, security, information technology, house of worship, pro audio, robotics, and supply chain markets through multimedia publications, websites, newsletters, and expos. EH Media provides resources to millions of professionals and consumers worldwide. www.ehmedia.com
About EH Impact, a division of EH Publishing: EH Impact is focused on helping our clients solve a multitude of challenges, including high-quality lead generation, at a reasonable cost. We rely on an uncommonly effective analytics platform as well as a unique suite of digital marketing tools to build marketing and sales funnels that deliver quantifiable ROI. Visit www.ehimpact.com for additional information.
ABOUT FOLIO: Folio: is dedicated to providing magazine publishing professionals with the news, insights, and best practices to keep them in tune with today's media industry trends. We have a wide range of resources to help you stay on top of the latest news and find real solutions that help you drive revenue including our website, our newsletters, Folio: magazine, awards programs, webinars, conferences and networking events – see for yourself. Foliomag.com